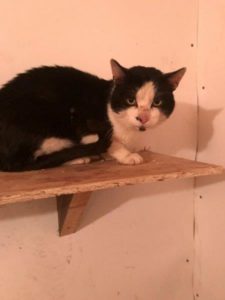 Odie, who I was told originally was "very feral" has been on cage rest for 14 days now. Today, was Independence Day for this fella. His paw with the hole in it has healed and his meds are all swallowed up. I knew he was having cage anxiety, so this  morning, I opened up the back door, opened up the door to his cage and told him he was free!
He jumped down off his cage and went to the back door, darted down the back steps and stopped! I figured he would be hot-footing it to the shop where he likes to hang out. He turned around and looked at me- darted back UP the stairs into the door and scrambled into his cage! Astonished, I looked at him and asked him if he was sure.? To answer me, he jumped on top of the cat condo inside and started to groom himself.
He's sure and so I will continue to work with him because he is very petting aggressive. I can now pet him for about a minute before he tries to attack me, but originally it was just seconds before he would whop me on the hand. LOL  I have to be careful because when I am cleaning his space he is following my hand like a hound dog on a scent and if the protective gloves come off- he will nail me. Silly Kitty- is he feral? No, not at all. Just been severely neglected of love and care before he arrived here.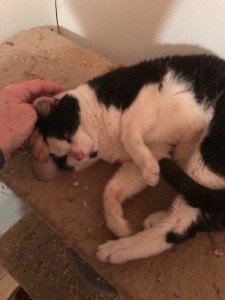 We also have two of Sarah's kittens back- Draco and Muggles. My foster mom told me the litter was extremely high-need and she needed a break. So I took two from her yesterday.