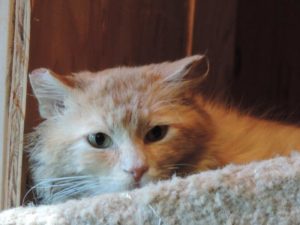 This morning, with a lot of tears and prayers, we let Fletcher go to the Bridge. He suffered from unpredictable and unprovoked acts of aggression and this cat was not kidding around. He put Molly in the hospital for two days, he attacked Magoo and Gadget. He would rush the fence and try to get to Kota, he has attacked me over a half-a-dozen times. I could pet him, sure could do that, but paid for it in the end. As I would walk away, he would charge me and bite my ankles. I had to start wearing boots and tucking my jeans down into my socks for extra protection.
I kept working with him, hoping I could step into his aggression, but there was no tell on when he would attack. No tucking of the tail, narrowing of the eyes, pinning of the ears, no posturing, nothing to alarm anyone. He was on you in seconds- and out for blood. No sound, just a silent attack that left several victims (including me) shaken in the aftermath.
A few days ago, he got out of the enclosure he has been in for months and returned two days later covered in blood and carrying a dead chicken! I know he killed this chicken, there is no doubt. I have done all in my power to get him to merge with the group without bloodshed- never worked. I covered the end of the tunnels with wire so he could meet the indoor kitties safely and he would charge the wire until he was bloody. It broke my heart, but I called my vet this morning and explained the situation and that I couldn't in good conscience adopt him out without believing that he would harm another person or an animal. He is a drop-dead gorgeous kitty and would normally have flown out the door as orange kitties are all the rage here. But I couldn't save him from whatever broke him in the first place, so we put him to sleep. That's the only way I could save him from himself.