Two days ago, I went to the local shelter to pick up yet another feral cat. While I was there, they were talking about a litter of puppies that just sounded so adorable- Great Pyrenees/Border Collar cross. I went on the floor to view the puppies and instead, I found this very strange looking older dog with the saddest eyes in the world. Looking at him, he is a cross of German Shepherd/Boxer/ some sort of coonhound (he bays) and he has the blue tongue of the Sharpei or Chow. All around him were pits and pit crosses and our eyes locked and his pleaded to me- "Please pick me." His history is sketchy. They only had him a few days. He came from a transport from AZ. They knew zilch about him really and it didn't matter. I had fallen in love. I put a 24 hold deposit on him, went home told Mike about him and before I knew it, we were back at the shelter with wheelchair and Juno in tow for the meet and greet.
Athough on paper, he was cited to be dog-aggressive- he and Juno played and rough-housed like normal dogs do. Juno is pretty persistent with new dogs when meeting them (like the energizer bunny) and he kept up with her and several times put her in her place. We brought him home- his name is Cooper.
He breaks my heart on a hourly basis. He shows me that he has been the type of dog who has never been in a home, never known a kind word. Just reaching out to him to snap the leash on his harness causes him to drop to the floor, roll over on his belly and cower! He is so gun-shy of Mike and I suspect it isn't just the wheelchair that frightens him but men in general. I believe he has been beaten by a man. He is a bit shy with me, but he is warming up gradually.
I also would bet money that something traumatic happened to him in a car because when I ask him to jump into the truck, he cowers, pulls back and pees all over himself- much like Quincy did early on.
I can't really lift him easily- although he is smaller than Juno he is lot more muscular and heavy- yet he still needs groceries as he is skinny. So we did some training with KFC chicken, and improvised launching platform (the top of a large dog carrier covered with a rug) and now after two days of training- he jumps in and out of the truck on his own! He has ZERO prey drive. A cat runs by, he lifts his head then goes back to sleep! We went to see Quincy this morning and they got along famously. He really is a sweet boy. He is two years old.
So here is a photo of him in the dog pen out back. If you click on the photo and enlarge it- you can see the blue tongue- but when you look at him overall, you just scratch your head and wonder how many males actually took this female in that heat cycle! His tail looks like that of a greyhound.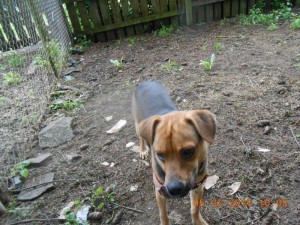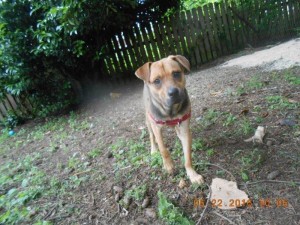 If anyone would like to comment on what type of crosses he has in him- feel free. I do know he has coonhound- his baying cracks me up. I think he has lived the majority of his life on the end of a chain or in a kennel and whoever had him did bad things to him.