He was worth saving, but we couldn't although we gave it a good try. Hobbs took his last breath about an hour ago. He was gone before the needle even hit its mark and he left on a flood of my tears.
Of all the hoarder's load, he was the most loving, falling asleep night after night, wrapped up in Mike's beard or snuggled on my lap. About a week ago, he started fading away from us- he was running high temps just like Hamilton. His heart was racing furiously fast, so fast the vet couldn't even track it. He was having trouble breathing some days and his abdomen became flaccid and loose. He was passing odd color stool, either it was a pale yellow or bright yellow (never a good sign). His fever fluxed between 103.6 and 104.8 and today it hit 105.8 and to hell with the huge vet bill- I raced him back to the vets.
They ran an x-ray to discover his stomach was full of fluid- they did an aspiration and drew out thick yellow fluid and I burst into tears, because I knew what they meant. We wasted no more time and this kitty who had been fighting FIP (wet version) is fighting no more.
Saying Goodbye-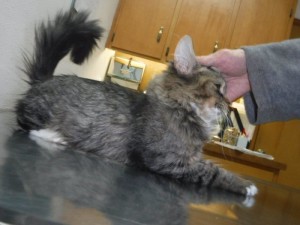 If you happen to read this and you are in a good spot in your life and you have $5.00 you can send our way. I can't emphasize enough how much it is needed right now. Our vet debt has never been higher. But he was worth fighting for- every ounce of me knows this and at least- he died in my arms and not on the cold floor of the hoarder's home where no one gave a tinker's damn about him.