She has been adopted by a lovely 22 year old woman and will be the only pet in the home. I was grateful for this adoption because the wee ones look at her as being their mom and were getting a bit aggressive trying to suckle this beautiful orange girl. She was very tolerant of it- until her spay- then of course it all changed.
Here she is in her new home just checking things out: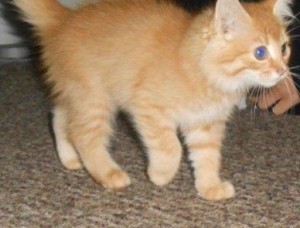 She hid behind the chest for about two hours then came out and spent some lap time with her new mom. Emily is thrilled with her. It was a great match-up arranged by one of the vet techs at the clinic I go to.