Poor kitty, she looks like a burn victim! But she is home where she belongs on a special diet and some meds. Aurora got into the room accidentally this afternoon and she went right to this kitten and started feeding her! I went to take Pumpkin from her and Aurora told me to back off by growling at me. Her milk is good and it has dropped again and she has decided she  knows how to take care of pumpkin better than any ol human. Interestingly, she is NOT allowing the other kittens to nurse her, just Pumpkin
There is a fear that she might have an auto-immune skin disease called pemphigus. It can come about due to a bad viral infection. If the lesions start to increase or get weepy- we will be forced to do a biopsy to see if this is the problem. I am hoping the lesions stay the size they are- she doesn't need the added stress of a return vet visit and then be put under when she is in such a weakened state.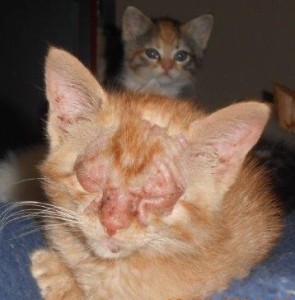 Also just designed this donation box to put in a local feed store. I wanted it to stand out from the others there- but then I wonder if I went out of the box a bit to far? The beads spell out Please Donate.