We rescued Hanna late last night after a phone call from an elderly man saying he had a cat trapped in his garage and the shoulder looked "odd."
When I arrived, I found an older and very friendly female mackerel tabby that at first glance looked like she had a chunk bit from her shoulder- but when I got her home and started to work with it- the wound looked really bizarre and kind of gross. I did the best I could and started her on antibiotics but this morning, it still looked strange so off the vet we went.
Turns out, it isn't a cat bite (which I knew already) but they narrowed it down to one of two things- a hobo spider bite, or a cyst or tumor that has ruptured. We are going to treat it for one week and if no changes occur- they want me to call and make an appointment to get the tumor removed surgically.
This kitty is as calm as toast and doesn't act painful in any fashion which would support the cyst/tumor theory. Only time will tell and if the neucrotic tissue starts to recede than it is a hobo spider bite- if not, she has a surgery in her future. Another odd thing is although she is 10 years old or better- there is no spay scar and her nipples look like they have never been productive in her life! Maybe I should change her name to Enigma.
here she is-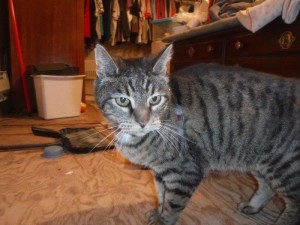 WARNING- WOUND PHOTO