Last night, quite late Mike's blood sugar plummeted and I had to run to the store to get some sugared snacks to bring it back up. On the way home (It was about 10:30 p.m. I see a cat carrier at the side of the highway. As I drove past, I watched it pitch forward and thought (certainly not?) No one would leave a cat on the road in a carrier in 30 degree weather? Well guess what, they would and they did. I stopped and walked back and this cat was wild to get out. Thankfully, if the carrier had been thrown- it was sturdy enough to stay intact so I took kitty back to the house and examined her carefully. She is not fully feral but she isn't socialized either. She was limping on her front leg- she is a polydactyl and I saw that her dewclaw was curled down into her pad- she was also full of mats from neck to tail.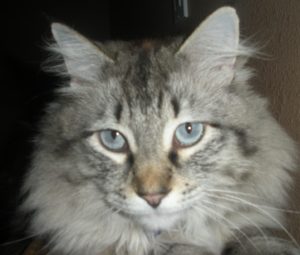 She has been at the vet's most of the morning. They have sedated her and started working on her- clipping her monster mats off (she is 18 pounds). By her coloring, she is calico/maine coon mix- gray and white, long hair with a badly infected paw. Those mats didn't just spring up overnight- they take weeks and months to form. I am calling her Fluff because she really is a large ball of fluffy fur and maybe if I call her a sweet name, her wild side will tame down and she will be a lovely cat that I will be able to place in a home. I would guess she is about 8 years old. Whatever possessed someone to drop her in the night in such a precarious place is anyone's guess and after paying for Solo and Slip- our fund isn't going to cover the sedation and work she needs- but what do you do? Turn a blind eye and hope someone else will come along  and "help her." Nope- you just listen to that small voice and know that it is guiding you to do the right thing regardless-
I'll be dipped- she has a chip! Calling about her now
Ok that's odd- her chip is out of Las Vegas! Maybe I should call her Vegas? LOL
She is back from the vet, she is pretty upset- she had two infected pads because the claws were growing into her pads of her feet. She was infested with fleas but not dewormed (They gave her a capstar) and they shaved her entire belly from neck to  butt. She is in foster care- we just don't have room for her here at this time.Waiting to hear from her owners but if they think I am going to take her to Las Vegas, they have another thought coming! Not that I wouldn't love to go and connect with some old friends there- but I can't possibly leave Mike that long- or the other cats here.