Slip tested negative, so she has been spayed, vaccinated and dewormed and de-flead. She is safe inside the intro cage. She got away from us in the room at the vet's office and she tried to climb the walls, but I still maintain she is not feral. She is just scared. I will not put her up for adoption until all the holiday craziness so she will be here until after the New Year- then I'll start my search for a tortie lover.
Here she is scared but safe: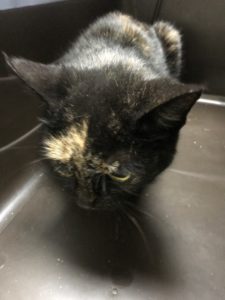 Molly is home, she is quite sore and swollen. She has stayed very close to me most of the night- but her swelling alarms me and I am glad she has several shots on board right now.